Due to the COVID-19 virus, GEFA staff are working remotely—with minimal staff in the office—to ensure our programs continue operating smoothly.
 
2016 Georgia Energy Report now available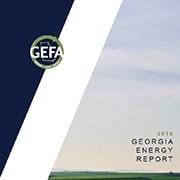 The 2016 Georgia Energy Report discusses energy-related trends across Georgia and the U.S. GEFA is a leader in energy conservation in Georgia, but there are many other people and organizations doing their part to move Georgia to a cleaner and more efficient energy future.
The 2016 Georgia Energy Report highlights some of the exciting changes and challenges that the energy sector faces, such as renewable energy growth, changes in transportation technologies, federal carbon regulation and the American energy production revival. The report dives into many of the exciting energy related programs that GEFA is implementing to help improve and conserve Georgia's resources. Finally, the report has an overview of Georgia's overall energy sector, including energy production and consumption statistics. Click here for the full report.