Due to the COVID-19 virus, GEFA staff are working remotely—with minimal staff in the office—to ensure our programs continue operating smoothly.
 
Infrastructure projects receive GEFA financing at May board meeting
Lift-Station-Pumps-crop.jpg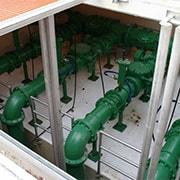 Left: Photo courtesy of Forsyth County Department of Communications.
The GEFA board of directors awarded 21 Georgia communities financing totaling $52,224,662 for water, sewer, and wastewater infrastructure improvements during its recent meeting in May. Some of the project highlights include:
The city of Abbeville was awarded a $139,595 Georgia Fund. The loan will finance the extension of an 8-inch water main, fire hydrants and the installation of a wastewater lift station and force main. This project will provide water and sewer services to Abbeville's Industrial Park. Abbeville will pay 3.09 percent interest on the 20-year loan.
The city of Woodbine was awarded a $431,250 Clean Water State Revolving Fund (CWSRF) loan. The loan will finance the construction of a 125 kilowatt (kW) solar energy generation facility at the city's wastewater treatment plant. This project will provide power production at the wastewater treatment plant and reduce the net operating cost of the facility while shielding the city from future electric rate increases. The city will pay 0.75 percent interest on a 15-year loan. This loan qualifies for an interest rate reduction because it's an eligible energy conservation project, and includes principal forgiveness of $129,375 if all loan funds are drawn.
The Downtown Development Authority of Madison (DDA) was awarded a $1,680,000 Clean Water State Revolving Fund (CWSRF) loan. The loan will finance the construction of green infrastructure including wet ponds to manage stormwater runoff from downtown Madison and associated land acquisition. This project will improve water quality in local streams by capturing, treating and reducing stormwater runoff and provide a source of passive recreation for the community. This facility will also serve as a new park for residents and visitors to the downtown area of the city. The DDA will pay 1 percent interest on the 15-year loan, which includes a principal forgiveness of $336,000 if all loan funds are drawn.
GEFA provides loans through state and federal programs to fund water, solid water and wastewater infrastructure, and water pollution control and conservation projects. GEFA also provides loan financing at a reduced interest rate to local governments and authorities for energy efficient and renewable energy projects at water and wastewater treatment plants, landfills, and municipal solid waste facilities, in addition to infrastructure improvements. For more information click here.